AESTHETIC AND SYMBOLIC WEDDING SUIT.
Making your wedding suit for the most beautiful day of your life is an important moment. Because between aesthetic concern and symbolic significance, the choice of your wedding suit is anything but insignificant. Just like your wedding, your suit will affirm your style, reflect your personality and express your personal taste. We will be at your side to guide you in making the tailor made  wedding suit of your dreams that will make you the most beautiful bride and groom. And, if you have never fallen in love with a bespoke  wedding suit, now is the time to do it.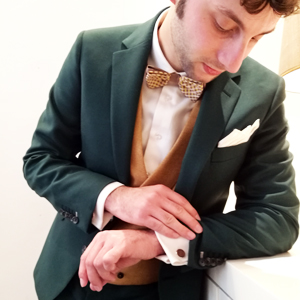 WE PROMISE YOU THAT YOU WILL FALL IN LOVE WITH OUR WEDDING SUITS!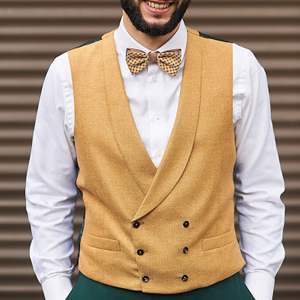 YOUR PERSONAL TOUCH THROUGH THE ACCESSORIES.
Once you've found the outfit that will make you the most beautiful bride and groom, you'll need to think about the accessories that will reveal your seduction. Such a special occasion deserves special attention to small details. Are you chic, sophisticated, classic, traditional or bohemian? Accessories too: shirt, waistcoat, bow ties, tie, cravat, square pocket and cufflinks are not chosen at random.
MORE THAN JUST A BRIDAL GOWN, OUR BESPOKE WEDDING SUITS ARE A TRUE DECLARATION OF LOVE.
MATCH YOUR WAISTCOAT WELL WITH YOUR WEDDING SUIT.
Whether lapel, shawl collar, straight or crossover, the waistcoat is the opportunity to inject a little personal touch to brighten up your wedding suit and thus make a nod to the thread of your theme. To create a perfect harmony in your wedding outfit, the art of matching the waistcoat, shirt and suit must be mastered. We have a wide range of colours, from the most sober to the most shimmering, with the possibility of personalising the back of the waistcoat by combining materials and colours, but without overdoing it.